Hamburg is the leading city in Germany when it comes to digitising mobility – this is the finding from a recent study conducted by the auditing and consulting firm PwC. The study examined the 25 most densely populated cities in Germany with regard to digitisation and electrification of transportation. It focused on four areas: infrastructure digitisation, ride-sharing, e-mobility and public city transport. Hamburg stood out particularly in the area of infrastructure, achieving first place in the overall rankings with 76.7 out of a possible 100 points. Stuttgart came in second as the trendsetter in e-mobility (71.9 points). Berlin was third with 67.1 points.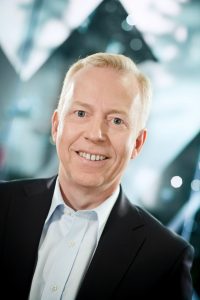 The result explains from the perspective of logistics why large cities such as Hamburg and Stuttgart are an important test market for the development and introduction of future-oriented, environmentally friendly delivery solutions. At the same time, logistics make an important contribution to sustainable urban and transport development. Dirk Rahn, COO of Hermes Germany, explains why this role needs to be incorporated much more firmly into society.
What percentage of parcels delivered by Hermes is destined for urban areas? And what role do environmentally compatible solutions play in the "last mile" logistics in metropolitan areas?
Dirk Rahn: In Germany, about 75% of the population lives in urban areas. This corresponds more or less to the distribution of our consignments. In addition, the trend towards urbanisation is continuing – another reason why Hermes has a long-standing tradition of climate-conscious, environmentally friendly operations. As a company owned 100% by the Otto Group, we pursue an ambitious climate policy with clearly defined goals, especially in the area of CO² reduction. We have joined the rest of the Otto Group in undertaking to reduce our carbon footprint within the Group by half by the year 2020. To date, we have already cut down these emissions by almost 50% per parcel on the so-called "last mile" alone.
E-mobility is the determining factor
What measures are you taking to try and make your parcel deliveries more environmentally friendly?
Dirk Rahn: E-mobility is currently the key determinant when it comes to expanding our fleet. In 2018, for example, we will be launching the use of battery powered electric vehicles in Stuttgart and Hamburg in close cooperation with Mercedes-Benz Vans. The objective is to have a total of 1,500 electric transporters deployed in metropolitan areas across Germany by 2020. In this regard, the testing of the emission-free self-driving Starship robots in Hamburg and London should also not go unmentioned.
In addition, from now until 2019, we will be investing about EUR 300 million in the construction of new logistics centres in Germany. What this means for the environment is that all the new buildings will be constructed in compliance with the high standards of the German Sustainable Building Council (DGNB). These centres will reduce travel distances within Germany and help to improve the overall efficiency of logistics processes even more.
However, customer-oriented service is also a pivotal element of reducing CO² emissions. It is only if the recipient is located directly on the first attempt that you can truly speak of efficient delivery. Furthermore, having ParcelShops close to the receiver also helps to reduce distance, and thus emissions.
The importance of logistics needs to be acknowledged
Awareness of sustainability is increasing among senders and customers alike. But what about an appreciation of the logistics service?
Dirk Rahn: There is a need for action in this area. Considering the continuing increase in parcel volumes, it is important to establish a clear awareness of the central role of logistics in society. After all, logistics is never in your own interest – it is always something you do for the customer.
What most customers want is for logistics to be fast, flexible and of course socially responsible and environmentally friendly – but preferably free. These terms are innately contradictory – it is basically a double standard. And this "free mentality" is not going to go away. But what this attitude fails to recognise is that the logistics sector is what keeps our entire social existence, including food services and trade, alive. The relevance and value of logistics needs to be acknowledged and given its dues.
Is this a topic for politics as well?
Dirk Rahn: Without a question! Politics must set the framework for sustainable development and offer greater incentives for environmentally responsible action, especially by businesses. For example, why not open public transport bus lanes to delivery services that make use of electric mobility? Another idea would be to make use of barrier-free areas in cities and municipalities for ParcelShop services, where access is particularly easy and dispatch efficient.
Thank you for your time.