In June 2018, Hermes and other parcel delivery service providers will be starting a joint pilot trial with e-cargo bikes and micro depots in Berlin. The idea behind this field study, named KoMoDo, which is scheduled to run for around a year, is to test how cargo bikes can be efficiently used for parcel deliveries. What is Hermes hoping to achieve by participating in this trial? What prospects does this project offer? We spoke to the Hermes project leader Michael Peuker.
---
Michael, you are in charge of Hermes' participation in the KoMoDo project in Berlin. What exactly is this project all about?
Michael Peuker: The project is a delivery concept using a standard micro depot, which has been made available in Prenzlauer Berg by the Senate of Berlin. From this central location we will be sending out our deliveries for the final leg of their journey using electric cargo bikes, or e-cargo bikes. What is unique about the KoMoDo project is that for the first time, all the major parcel delivery services in Germany are going to take part in it. Separate containers will be set up for each delivery service provider, which will serve as micro depots for inner-city handling and also as a parking space for the e-cargo bikes.
Why is Hermes participating in this project?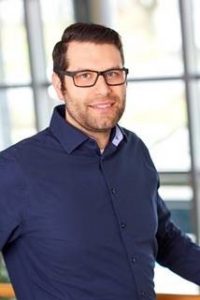 Michael Peuker: We are committed to constantly reducing emissions in transportation, particularly in inner-cities that are becoming increasingly congested with traffic. For this reason, we recently launched an extensive project called "Urban Blue" with the aim of making emission-free deliveries in the inner-city areas of the 80 largest German cities by 2025. Our collaboration with Mercedes-Benz Vans to electrify our vehicle fleet, which we started in 2017, is also part of this commitment, as are the TRIPL trials in Göttingen or the use of emovum e-vans in Hamburg. In this regard, the KoMoDo project in Berlin is another ideal addition for us and fits in perfectly with our corporate strategy.
Emission-free deliveries, without parking hassles
What advantages do cargo bikes offer over conventional vehicles when it comes to parcel delivery?
Michael Peuker: E-cargo bikes, soon to be deployed in Berlin, allow us to travel in bike lanes, meaning we can evade traffic and are permitted to travel in both directions on many one-way streets. This simplifies operations drastically. This also reduces the problem of parking space, which the couriers have to struggle with because of the lack of loading zones in inner-cities. Furthermore, e-cargo bikes reduce legwork for the couriers. Today, a parcel van might have to park one or more blocks away – the courier then has to go the remaining distance on foot. Cargo bikes, on the other hand, can often be taken right up to the front door. On top of that, they do not require a driving licence – with that in view, we could even approach additional target groups in this notoriously constricted courier market.
If e-cargo bikes are so practical, why did Hermes take so long in deploying them?
Michael Peuker: Because efficient operation always involves hurdles. The absolutely crucial and decisive fact is that deployment of cargo bikes will not work without micro depots. In other words, before we are able to contemplate using e-cargo bikes extensively, we first need space – and, as you very well know, this is scarce and expensive, particularly in cities. Berlin is setting a positive example in this context and facilitating the current project by making such urgently required spaces available.
What kind of vehicles would Hermes be using? In what radius would they be deployed?
Michael Peuker: The advantage of having the micro depot at Mauerpark in Berlin is that our starting point will be in the delivery zone itself and we will therefore have very short routes to cover. So, the deployment radius of the vehicles will not be more than two kilometres. This is an extremely crucial point when selecting the vehicle. We will be able to say which bikes we will be using by the end of May, once the project has been officially launched by Berlin's senator for transport. We can, however, reveal this much: the vehicles are real eye-catchers and have many other features besides the electric drive, such as a removable container, wireless remote control, canopy or even a USB charging function.
Is a collaboration on distribution also being considered as part of this project? For instance, will Hermes soon be delivering DHL parcels as well?
Michael Peuker: No, there are no plans for such a collaboration in the project starting now. We will be sharing the site with DHL, DPD and other parcel delivery service providers. The actual deliveries, however, will be coordinated by each transport company on its own, partly because of the stark differences in the delivery processes of each participant company.
"A lot of movement in the market"
What added value do micro depots offer a logistics company such as Hermes?
Michael Peuker: Micro depots are of key importance to us when it comes to establishing modern, futuristic inner-city logistics. They shorten the routes and allow alternative delivery vehicles to be used which cannot be operated in a conventional logistics system.
It is also important to note that in the past, a logistics system with a nationwide network of distribution centres did not concern itself so much with inner-city locations as with having good accessibility by motorway. Many of our locations were therefore very deliberately located outside or on the edge of the cities to be able to keep the delivery traffic away from the city area. Micro depots, on the other hand, have to be set up in busy delivery areas so that alternative vehicles like e-cargo bikes can be used for short distances. Micro depots serve as handling areas for the distribution of shipments on individual cargo bikes and as parking spaces with charging stations for the e-cargo bikes.
What has your experience been with cargo bikes in other cities?
Michael Peuker: The project scheduled to start in Berlin will be the most extensive and large-scale project of its kind yet for Hermes. Previous trials with cargo bikes conducted many years ago – including one in the Schanzenviertel in Hamburg – were very insightful in many ways; however, they could not be continued considering the efficiency and technology. The load volumes at the time were also not sufficient. There is now a lot of movement in the market, because, as well as exciting start-ups, even manufacturers active in the automotive domain are offering more suitable e-cargo bikes.
In 2017, Hermes tested out an e-scooter of the TRIPL brand in Göttingen. Could that not be an option for Berlin as well?
Michael Peuker: For the current trial in Berlin TRIPL would not be an option, because Hermes needs vehicles with larger load volumes due to the densely populated residential areas in and around the city and thus the large number of shipments. Otherwise, it would not be possible for us to have an economically viable operation. That is why it has to be e-cargo bikes; with the KoMoDo project, we want to establish a serious business and not just a showcase product in Berlin. The trial should tell us whether the deployment of e-cargo bikes can be incorporated into our existing business model in a way that makes sense economically and operationally, and if so, how. This is what needs to be examined.
Thank you for your time.