In October 2020, Instacart announced a new service. North America's biggest online grocery provider had seen a wave of new customers due to Coronavirus. The problem was, not all of them were internet-savvy. So it introduced a Senior Support Service to offer personal assistance for customers over 60. From setting up an account to figuring out payment options, the service has since helped hundreds of thousands of more mature shoppers embrace e-commerce.
Online shopping has enjoyed a large recent increase in popularity among older consumers. In the United States, over-65s spent 53% more on internet shopping in 2020 compared to the previous year. British over-65s were responsible for 30% of online consumer goods purchases in 2020 – up from 20% in 2019.
The pandemic has a large part to play in this, of course. Keen to minimise exposure to Covid-19, many older people have avoided busy shops where possible during the last 18 months. A recent Economist study of shoppers in the US and Europe looked at changes in online spending in June-August 2020 compared to January-March 2020 (pre-pandemic). Among the oldest generation (aged 55-74), online grocery spending, for example, was up a massive 191%.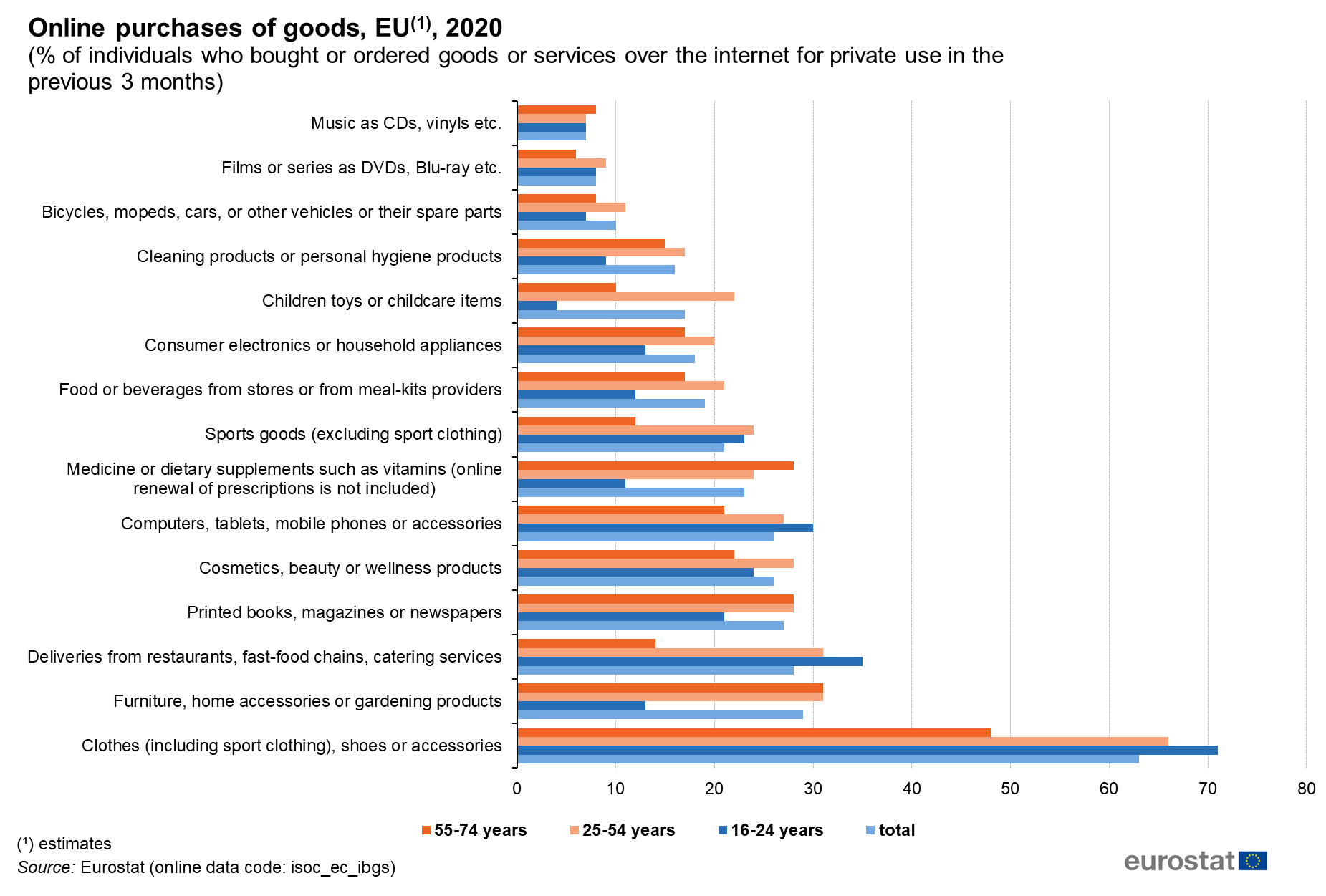 But food is far from the only thing seniors are now buying online. Books, toys and games increased by 23 percentage points (pp) in the same period; footwear, clothing and accessories by 21pp; and consumer electronics and appliances by 17pp. Indeed, in the EU, shoppers aged 55-74 were the biggest e-commerce spenders in multiple categories last year, including music, furniture, medicine and printed books.
Hey, big spenders: Why silver surfers are a target group for e-tailers
For e-commerce retailers, older shoppers are a coveted demographic. They can be loyal customers and often have more disposable income than younger generations. In the United States, 'baby boomer' households (those born between 1946-1964) spend $64,000 a year, almost twice as much as younger households born from 1997 onward.
In many countries, older shoppers also represent a growing part of the population. Between 2010 and 2020, the proportion of over-65-year-olds in the EU rose by three percentage points. Globally, the number of people aged 65 or over is expected to double by 2050, going from 9% of the population to 16%.
Trust, security, inclusion: What silver shoppers want
Satisfying these 'silver surfers', then, is increasingly important for many e-commerce players. But what do older consumers look for when shopping online?
According to a 2021 global report from retail consultancy ESW, they prioritise lower costs, simplicity of use and clear refund policies. Older shoppers also favour sites with more variety and are half as likely as younger shoppers to be influenced by referrals or positive reviews.
Trust, security and inclusion are particularly important for older internet users, who grew up in an offline world with a more 'human' approach to customer service.
Yet this is not always something e-commerce firms excel at, according to one recent global report by the World Benchmarking Alliance. It ranked 100 digital companies, including 14 e-commerce firms, based on criteria such as contributing to digital technology access, building digital skills and enhancing trust. E-commerce enterprises drastically underperformed compared to companies in other digital industries such as hardware or telecommunication services.
Post-Covid outlook: More senior support for silver surfers?
While lockdowns have eased in some countries, Covid-19 has not gone away and it remains to be seen whether older shoppers will continue to spend their money online in the medium term.
The signs are promising, though. A March 2021 study by IAB UK reported that 58% of shoppers aged 55 and over will continue to shop online with the same frequency as at the height of the pandemic.
Longer term, today's older generation of shoppers is also perhaps the last that has not spent a significant chunk of their work and private lives online. Eventually, this shift may make services like Instacart's senior support offering unnecessary – at least until the next major digital shopping revolution.