Especially in places where things get extremely tight, in the literal sense of the word, during that last mile, the ability to intelligently organise traffic flows offers relief. Sebastian Heise, COO and founder of the start-up Graphmasters located in Hanover, Germany, explains how technology and data linking can become the solution to all traffic jam problems.
Sebastian, what is your preferred inner-city and rural means of transportation?
Sebastian Heise: I live in a small village outside of the city. If you don't have a car there, you're really stuck. For Graphmasters, though, I am on the road a lot and visit quite a few metropolitan areas. In each one of them, the ability to get somewhere varies depending on the various means of transportation offered. Whether I use the train, take a cab or simply walk ultimately depends on the time pressure, weather and, well, the options offered in that particular city.
Traffic volume globally and in Germany is continuously increasing. Mobility is a critical topic to focus on when discussing how we want to live our lives in the future. In your opinion, what will Traffic 2030 look like?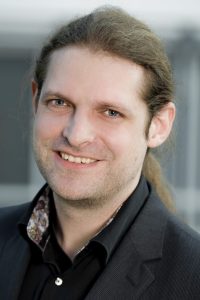 Sebastian Heise: I expect to see an increasingly mobile society. Mobility will become easier and increasingly less expensive. Stationary workplaces will be a thing of the past. We will all be travelling more, be on the road more. Especially where younger people are concerned, I expect they will become mobile at an earlier age and the older generation will remain mobile for longer. The need for customised transport will, in my opinion, most likely increase rather than decrease. So, the winning ticket for the future will be to find a way to smoothly dovetail the various mobility options.
Using the road network properly
What are the challenges when it comes to intelligently managing traffic flows?
Sebastian Heise: It is becoming more and more important for capacity planning when using the road. What I mean is that traffic should be effectively organised both with respect to time and space. The problems we're dealing with today are basically the effects of having too many people wanting to use the same roadways at the same time. It's been said that 90% of the vehicles are only using 10% of the roads. A large portion of the road network is not being properly utilised whilst there are a lot of complaints about traffic jams.
This is exactly where the technology of Graphmasters comes into play. We work directly with traffic control centres in Germany. The spatial distribution of traffic is quickly noticeable, especially during major events. The next step is to help the 70,000 Eminem concert-goers to get to and from Hanover. They can easily install the NUNAV app free of charge and be rest assured that they will easily find their way around. This has already happened for the 200,000 visitors to the HAJ Marathon, where we were able to show road closures for the inner city area to the exact minute. In Dresden, the navigation app directs you to park and ride car parks outside of town and shows you how many free parking spaces car parks have. The increased ability to link into the infrastructure systems has, in particular created new potential opportunities: system-wide linking into these systems has decreased waiting time at traffic lights by half.
How to prevent traffic jams
How does the NUNAV technology that Graphmasters developed differ from any other navigation software?
Sebastian Heise: With traditional systems such as Google, you can see that all vehicles are always directed to use the same routes. But that is exactly how traffic jams are created! Moreover, the traffic jam itself is measured by its own participants, which means someone is always stuck in traffic.
Our route calculator keeps track of how often roads have already been assigned to other traffic participants; everyone is given their space on the road. Based on the number of vehicles on a section of road, we can calculate the driving speed that can be achieved. This is why NUNAV also recommends routes that you yourself would never have thought of.
What data points and information does your platform make use of to manage traffic more efficiently?
Sebastian Heise: We look at as many data sources as possible. Graphmasters adds stationary sensors onto roads using GPS measurements from mobile devices. We also use information issued by the press from various sources about road closures. While navigating using NUNAV, we continuously compare how the originally estimated speed matches the actual speed. This helps to continuously improve NUNAV through use.
It's all about precision
What special features are there when developing routing software for parcel delivery?
Sebastian Heise: For parcel delivery, the travel times over short distances must be very precise. An average route is typically only 0.72551 minutes. However, couriers make hundreds of these short routes a day. If your work is careless in this regard, you simply underestimate huge deviations which can add up throughout the day. Travel times are often underestimated – yet in fact, every second counts! I would think everyone is familiar with road signs showing weight and size restrictions for vehicles. However, people tend to overlook the many challenges facing delivery traffic. NUNAV Courier is now making it possible to plan scheduling and dispatch based on real-time traffic volumes so that legal requirements are always observed.
Yet, all of this only works if route planning can be smoothly integrated into existing business processes and still be flexible enough to respond to all unforeseen things, which are ultimately part of this task.
Couriers help to measure inner city roads
The NUNAV technology is also being used for traffic management in cities and at major events such as the Hanover Trade Fair and concerts. What overlaps are there with such projects and the requirements of the parcel industry?
Sebastian Heise: Simply stated: Everyone meets up again on the road. Most of the time, traffic groups are viewed individually as trade fair traffic, football fans, commuter traffic, lorries and parcel couriers. What is mostly ignored is that everyone is using the same roads. The trade fair visitor and the commuter have similar destinations. In the end, we should all be pursuing the goal of saving time and energy. At street level, NUNAV assists in combining all of these relationships. Couriers help to measure the roads in inner city areas. Links with infrastructure facilities also allows the precision necessary for professional applications. For the first time ever, this technology provides real tools to traffic management centres and urban traffic planners which can be used to manage and plan traffic.