Whether straight to the doorstep or to a ParcelShop – from now on, Hermes Germany will be serving more than 300,000 Berlin residents in Schöneberg, Kreuzberg, Prenzlauer Berg, Tiergarten, Mitte and the Government District with zero emissions. This means that over 2.5 million parcels per year will be delivered by electric van* or cargo bike. The 79 ParcelShops in the districts are also participating in 'Green Delivery Berlin' and will be served using carbon-neutral transport methods. Overall, the use of sustainable vehicles will save 220 tonnes of CO2 every year. The new sustainability concept will be a blueprint for similar initiatives in other German city centres: Leipzig, Dresden and Erfurt are also set to start receiving emission-free deliveries in the near future. With its ground-breaking concept, Berlin has kick-started a system of green urban logistics.
Marco Schlüter, Chief Operations Officer at Hermes Germany: 'Central Berlin is now by far the largest contiguous area that receives carbon-neutral Hermes deliveries. For the first time, the combination of e-mobility, charging infrastructure and hybrid-use microhubs is working so well that we can make zero-emission deliveries to an entire city centre.'
Covering 40 square kilometres with zero emissions
The emission-free area spans the districts of Schöneberg, Kreuzberg, Prenzlauer Berg, Tiergarten, Mitte and the Government District. Every day, 28 cargo bikes and 14 electric vans are on the road. The vehicles start their carbon-neutral trips from three central microhubs powered entirely by green energy. Hermes use these small depots collaboratively with other companies.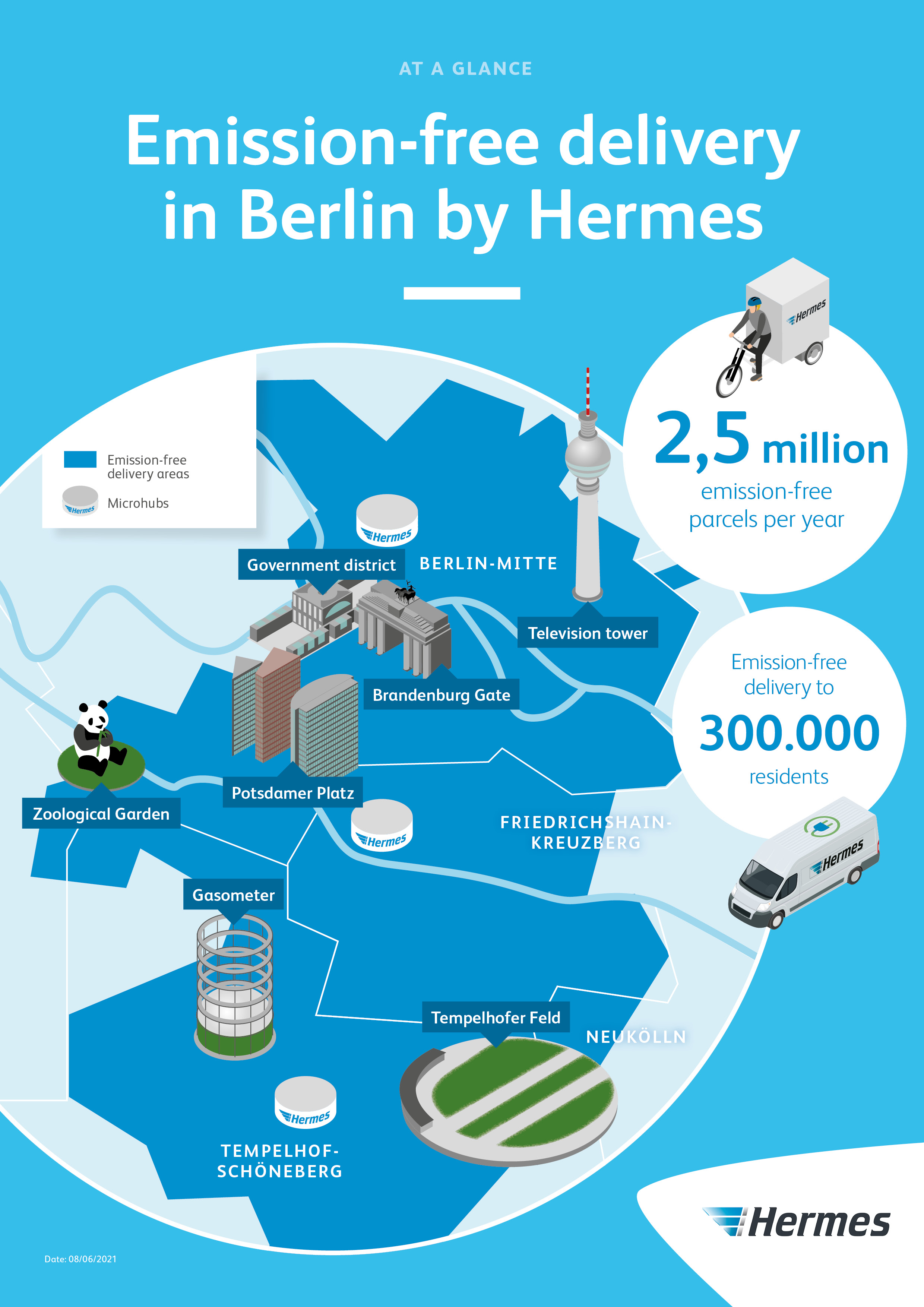 'We have gained valuable insights from running many pilot projects involving cargo bikes, microhubs and electric vehicles in the past years and from our close collaboration with their manufacturers. Now, we are consolidating these insights into a practical concept', says Marco Schlüter. 'Large-scale emission-free deliveries are no longer a pilot project. Large parts of central Berlin are now a carbon-neutral zone for Hermes.' The concept saves a total of 220 tonnes of CO2 per year.
'The Otto Group has been pursuing a sustainable CR strategy for quite some time now. Between 2006 and 2020, we managed to reduce our CO2 emissions by 56 per cent. We are now aiming to make our entire corporate group climate-neutral by 2030', says Kay Schiebur, Executive Board Member of the Otto Group. 'Hermes Germany is making a major contribution to this effort by investing heavily in zero-emission deliveries in Germany. For the first time, our customers have an opportunity to take action on climate change by choosing a carbon-neutral delivery.'
Blueprint for other cities
Marco Schlüter is already looking to the future: 'Berlin is only the beginning. As a parcel delivery service, approaches like this one are our way of tackling the challenges facing urban logistics in Germany. At the same time, we are improving the liveability of our city centres. Our system of large-scale, zero-emission deliveries in central Berlin will provide a blueprint for other cities wishing to follow suit, such as Dresden, Leipzig and Erfurt.'
Kay Schiebur adds: 'We are pleased that there is increasing social awareness of the urgency of extensive climate protection measures. More and more customers are making purchase decisions with sustainability in mind.'
Finding a sustainable solution for the last mile with expert partners
The 'last mile' is a highly complex and controversial issue, and there are many factors to consider when setting up a fully emission-free delivery system. In addition to suitable vehicles, such a system requires extensive charging infrastructure and, above all, central microhubs, i.e., small shipment centres. These are scarce and expensive, particularly in urban centres. Pouyan Anvari, Area Manager Berlin at Hermes Germany, says: 'In Berlin, we use three centrally located microhubs, which allow us to send our cargo bikes directly into the delivery area.
The riders can conveniently change their bike batteries during any trip. 'We partner with Swobbee, an expert supplier of battery-swapping stations. They ensure that our delivery riders always have easy access to full batteries.'
Cargo bikes are an important component of the mobility strategy for central Berlin. Due to low speed limits and certain roads being closed to vans, cargo bikes are even more efficient than conventional vans in these areas. 'We have run a lot of tests with the cargo bikes and even helped the Berlin-based producer ONO bring their product to the market. Of course, we have benefited from this close partnership, too: ONO cargo bikes make up a large part of our fleet in Berlin', Pouyan Anvari explained. Each cargo bike covers around six to eight kilometres a day, delivering between 120 and 130 parcels. Thanks to the central microhubs and the short access routes these create, the bikes can be recharged easily.
Hermes also works with other partners in Berlin, such as PIN AG. Pouyan Anvari commented on their collaboration: 'We are creating a lot of synergy effects together, for example, joint deliveries. The shared use of microhubs with PIN AG will also play an important role in expanding our concept.'