The Hermes Group continues to write its success story. In the financial year 2019/20, which ended on 29 February, the Group once again recorded profitable growth. The trade and logistics service provider, which specialises in the B2C and C2C segments, increased its consolidated turnover (adjusted for exchange rate fluctuation) on a comparable basis by 9.0 % to €3.5 billion. In doing so, Hermes has further consolidated its strong second-place position in the three largest European CEP markets of Germany, the United Kingdom and France. Hermes has extended its competitive edge in the two-man handling segment in both Germany and France. Hermes has 15,563 employees around the world, of whom 10,204 (FTE) are based in Germany. The start of the new financial year has been shaped by the coronavirus pandemic. Following an initial fall, Hermes Germany has since seen shipment volumes increase by around 40 %, while ensuring that delivery quality remains consistently high.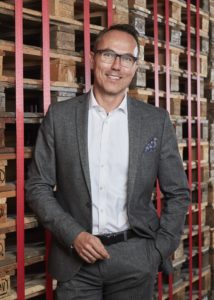 "The Hermes Group has again recorded above-average growth for 2019, both in terms of turnover and shipment volumes, and has done so in a highly dynamic and competitive market environment. We are particularly pleased that, in respect of profit performance, it proved to be one of the best financial years in Hermes' history. Continued investments in a dense network of modern locations and in new technologies were significant factors in this success. In addition, innovative and customer-centred solutions for final-mile delivery have helped us to unlock further opportunities for growth. As a logistics partner to numerous major online shops and multi-channel retailers, these investments have seen Hermes continue to play its role in the growth of global e-commerce. The Group has also recorded increased volumes and turnover from cross-border shipments, in particular from China and the USA," explained Kay Schiebur, Otto Group Services Executive Board Member and Chair of the Supervisory Board of Hermes Europe.
As a result, Hermes companies have been able to significantly expand their customer base and acquire notable new clients from the top 100 e-commerce companies. At the same time, Hermes is increasingly establishing itself as a solution provider to clients with smaller shipment volumes (1,000 to 50,000 shipments per year), such as through its ProfiPaketService. This segment has grown by around 20 % in Germany compared to the previous year. In total, the Hermes Group transported a record 928 million shipments in 2019/20. Hermes recorded particularly strong growth in France, where the number of shipments handled by Mondial Relay rose by 51 %.
"However, this positive business development cannot disguise the fact that the sector is subject to significant structural pressures in terms of pricing and costs. Consequently, offering sustainable pricing arrangements to our commercial customers and continuing to drive forward innovation in last-mile delivery remain key challenges," continued Schiebur.
Impact of the coronavirus
The coronavirus pandemic has had a significant impact on the start of the new financial year for the entire Hermes Group, though it has affected individual national subsidiaries to varying degrees due to the different protective measures implemented by the authorities in each country. For example, in light of the COVID-19 restrictions introduced by the French government, Hermes shut down virtually its entire ParcelShop network in France, which had a knock-on effect on shipment volumes and revenues. With lockdown regulations now being relaxed, Mondial Relay has begun to ramp up its activities again since this week. In the United Kingdom, our business model has shown itself to be stable throughout the coronavirus crisis, with our national subsidiary recording considerable growth in shipment volumes. For Hermes Germany, shipment volumes have fluctuated significantly over recent months. Shipment volumes initially fell in March before rising by almost 40 % in April compared to original forecasts, thereby returning to the pre-Christmas period level. Despite this rapid growth, more than 90 % of all shipments within Germany continued to be delivered the next day, which corresponds to the quality levels achieved before the coronavirus outbreak. "By investing heavily in the expansion of its logistics infrastructure, Hermes Germany has developed an efficient and flexible network, meaning that retailers and end customers can still rely on high delivery quality without reservations, even during this time of crisis. The coronavirus pandemic is an unprecedented endurance test that poses major challenges for society, politics and business. Simultaneously, with regard to parcel delivery services, the outbreak has shown once again how crucial it is to have viable competition in the market and thereby offer customers the freedom of choice," summarised Kay Schiebur.
At present, company leadership and the Supervisory Board do not consider it possible to accurately forecast the extent to which business development in the current year will impact the Hermes Group and its global operations. It is not currently possible to predict the medium and long-term consequences that the cooling global economic climate will have on consumer behaviour. "The Hermes Group is well positioned and is implementing all health-related, operational and budgetary measures to overcome the crisis together with its employees," emphasised Kay Schiebur.
Investments in a stable network
In the last financial year, the Hermes Group set its focus on the future with investments totalling over €100 million. In total, Hermes transported 928 million shipments. The company continued to pursue a customer-oriented, flexible and ecological approach. Hermes' well-positioned logistics network is the linchpin of its performance promise.
In September 2019, Hermes Germany opened a new distribution centre at Münster Osnabrück International Airport. Another premises is under development near Bremen, with operations on the site set to commence in October 2020. Only recently, on 24 March, a new logistics centre for furniture and bulky items opened its doors in the Franconian town of Ansbach. The Hermes Fulfilment warehouse is directly adjacent to the new hub for Hermes Einrichtungs Service, with the site planned in conjunction with OTTO and realised with ECE Projektmanagement.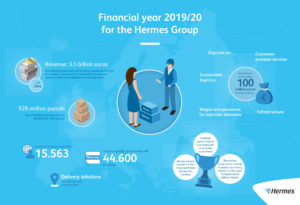 In France, Mondial Relay upgraded its capacity and opened a new logistics hub in Lyon on schedule, just in time for Black Friday, the shipment-heavy start to the peak consumer season. The hub is capable of processing up to 200,000 shipments per day.
In the United Kingdom, the largest distribution centre in Europe is set to be completed in 2022. Hermes UK is investing around €69 million to construct a high-performance site in Barnsley. In the future, the hub will be able to process 1.3 million shipments per day.
Smart and sustainable inner-city logistics
Fully in keeping with the Otto Group's target of becoming climate-neutral by 2030, its subsidiary Hermes has continued to promote the growth of alternative drive systems. Hermes UK, for example, has already switched 100 % of its vehicle fleet in London to electric vehicles. Furthermore, trialling sustainable delivery concepts remains a key focus – from making deliveries via tram in Frankfurt to a mobile micro-hub at the Alstertal shopping centre in Hamburg, from which shipments can be collected and delivered by freight bike, and through to collection and delivery stations.
Hermes Germany has also teamed up with notable partners to initiate a pilot project to set up parcel stations in tube and train stations in Hamburg. The Hamburg Box allows customers to collect packages in the course of their daily commute. Unlike other parcel stations on the market, the Hamburg Box is vendor-neutral and available for all parcel and delivery services to use.
Locker stations have also become increasingly important in France and the United Kingdom. As a result, Hermes now plans to install a total of 400 drop boxes in France, where customers will be able to pick up their parcels. In the UK, Hermes has expanded its logistics network with its first 800 locker stations. In doing so, Hermes has become the first parcel delivery service provider to offer a combined service portfolio of home delivery, ParcelShop and locker station solutions.
In another innovative delivery concept, Hermes Germany launched Paketfuxx, a platform that for the first time rewards neighbours for taking in parcels. Hermes is currently conducting a pilot project to determine whether it might be possible to establish a new form of customer-friendly consolidation points. ParcelShops are also becoming an increasingly important alternative to home delivery; with 44,600 ParcelShops in total, Hermes has the largest network of its type in Europe. The number of ParcelShops in Germany has risen to over 16,000, with this figure expected to rise gradually again this year.