Last autumn, Hermes launched a pilot study with delivery robots of the Starship brand in Hamburg – the first parcel delivery service of its kind in Germany. Six months after the launch, Roger Hillen-Pasedag, director of strategy, innovation & CR at Hermes Germany, takes stock of the results achieved thus far.
Mr Hillen-Pasedag, your test with Starship robots in Hamburg was supposed to run until the end of 2016, but then it was extended until the end of March 2017. Are you going to extend the test again?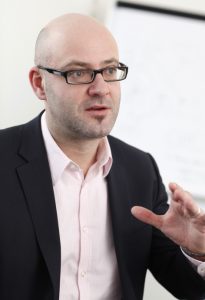 Hillen-Pasedag: The Starship robots will continue to operate in Hamburg after the end of March. However, after the past six months of being in test operation, it is time for us to evaluate and analyse our experiences and the data that we have collected. During the next few weeks, the robots will conduct further mapping and other test drives under the direction of Starship to further improve the existing map data.
Does that mean the collaboration between Hermes and Starship is now over?
Hillen-Pasedag: No. We are just taking time, as planned, to evaluate our findings and, in collaboration with Starship, check possible future scenarios for application. Where we will go from here is currently still undecided. Some possibilities are applications that focus more on returns, but hybrid concepts with other partners are also conceivable. Innovation does not happen at the desk, but by conducting pilot studies and testing new technologies.
Galerie
"The aim is not to replace couriers"
So, for the time being, there will be no nationwide delivery of Hermes parcels by robots in Germany?
Hillen-Pasedag: For the time being certainly not, but that was never the objective of the trial. After all, we are dealing here with a very early prototype that can only get to the point of mass production through trials such as the one currently being conducted in Hamburg. Furthermore, the aim is not to replace parcel couriers with the robot, but rather to test new delivery options in order to optimise delivery to our customers such as those in congested city centres. In this regard, autonomously operating systems are and remain a subject of interest to us. Of course, we are a little bit proud of the fact that we were the first parcel service in a major German city to use an autonomous transport vehicle.
What is the biggest advantage a robot has over a human courier?
Hillen-Pasedag: The biggest advantage is certainly that delivery robots can theoretically be used around the clock, 7 days a week. If you as a customer would like to send your returns on Sunday night at 2:30 am, you could just order our robot and your parcel would be on its way half an hour later. Parcel delivery and collection can thus be tailored individually to each customer even more so than is possible today by including off-hours as well. Autonomous robots create completely new scenarios for application. This is what we aim to evaluate.
How did the Starship test fare in recent months?
Hillen-Pasedag: All in all, I am very satisfied. Our primary objective for this first test phase was to gain experience with a new delivery concept. In this, we were successful. And this was not only because we were able to deliver parcels to our participating test customers successfully. The response from the public, such as from people on the street, was also extremely positive and in fact significantly greater than expected. We have had contact from around 250,000 passers-by since autumn, and the robots have travelled over 3,500 kilometres in Hamburg for Hermes, completing roughly 600 trips. Working with the Starship team has been great fun.
German mobile network with weaknesses
But despite all the optimism, every pilot project has its weaknesses. Where do you see a need for improvement?
Hillen-Pasedag: First of all, I would like to emphasise once again that we never expected to reach a point where we would be able to present a mature, marketable mass-produced product after just a few months. It is still too early for that. On the one hand, I think there is a need for improvement in terms of technology, such as with battery performance and user interface, as well as in the flexibility of the system, such as when working in the evening and at night. One challenge we have not been able to resolve yet is the insufficient supply of fast LTE mobile networks, especially in peripheral areas. This is not a problem in Estonia, Starship's country of birth. Last but not least, manual assistance is currently still quite complex, also because of the attendants.
Why are these attendants there in the first place?
Hillen-Pasedag: Because the legal framework currently requires it. According to the current licensing situation, the robots may not be used without these so-called handlers, even if the system is already technically capable of autonomous driving. However, in this regard, there is one completely different aspect that should not be underestimated, namely that the "handlers" also have the function of providing information. There is a great need for information among the passers-by, and the attendants are approached dozens of times every day.
Amendments to legislation may help
With so much human input, does a robot actually pay for itself?
Hillen-Pasedag: No. With the trial currently under way, the operation naturally does not pay, but this was also something that we knew very clearly at the outset. After all, this is a project involving early prototypes – that always costs money, even if the capital outlay is very manageable compared to other major projects. Looking at it in perspective, of course, one will have to ask oneself whether and how such an application can be made profitable. For a start, this will require full integration into the delivery processes.
How much support is required from the legislative authorities?
Hillen-Pasedag: The City of Hamburg is exemplary in its support of us and is also conducting very promising talks with Starship, such as regarding the possibility of extending operating hours to the evening. In the medium term, however, we need regulation at the federal level to be able to test autonomous driving without a human attendant. This will reveal whether Germany can compete internationally and create the appropriate framework conditions for autonomous systems. In addition, an amendment to the Postal Service Act would help to radically simplify the use of autonomous delivery systems in Germany. But that is still a dream for the future.
Thank you for your time.