Dr. Tripp, thank you for joining us today. From sustainability to "middle mile" to automation, there's a lot going on in the logistics industry today. Which trends do you consider to be the most important?
Dr. Christoph Tripp: One of the main tendencies is that the global logistics industry is still extremely busy dealing with the effects of the Covid pandemic as well as the management of its own capacities. There's a shortage of staff, especially in operational logistics, resulting in an increased use of automation technologies. Another key point is that there's a lot of uncertainty due to high energy costs, increasing inflation, and the war in Ukraine. These conditions produce a lot of volatility in supply and demand, making it virtually impossible to produce accurate forecasts. It's a significant challenge for everyone involved in logistics.
How do you see things evolving by the end of 2023?
Dr. Christoph Tripp: Over the next few months, the logistics industry will continue to struggle with the supply and capacity bottlenecks it's experiencing now. It doesn't look like there's any way to resolve the workforce shortages in western industrialised nations in the short term – that will require the development of longer-term strategies. The global increases in energy costs and inflation will continue to result in a significant reduction in purchasing power, leading consumers and businesses to renounce on certain purchases. In addition, the ongoing war in Ukraine and the fears for the future that it engenders produce a lot of uncertainty – so consumers will be in even less of a buying mood than they are now. As such, I think the upcoming Christmas trading season could prove to be a challenge for a lot of retailers and logistics providers.
How will all this affect consumers and businesses?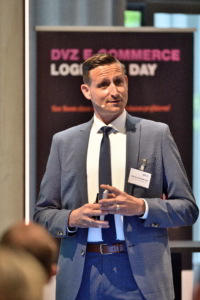 Dr. Christoph Tripp: Despite these developments, convenience and sustainability continue to be very important to consumers. Retailers' delivery services will continue to be a decisive success factor and increasingly become an integral part of their business model – or even their unique selling point. However, we're seeing ambivalent expectations of what convenience and sustainability involve. On the one hand, many people want more sustainable products, packaging and services. But on the other, they are increasingly demanding a broader product range as well as more personalisation, speed and convenience. For retailers and logistics professionals, managing the conflicting priorities of convenience and sustainability is going to be THE number one mission of the future.
Against this backdrop, what role will be played by technologies like AI, drones etc.?
Dr. Christoph Tripp: Technology is THE major enabler for solutions to resolve the wide range of – sometimes ambivalent – challenges we've talked about. They're involved in planning processes just as much as in operational logistics procedures. I think there's a lot of potential for artificial intelligence in logistics, where it can be used to improve inventory management, order processes and forecasting accuracy. As for automation technologies, they are increasingly being used in warehouse processes – they provide an answer to staff shortages there as well as to the high cost of order picking. Overall, technology is changing the work involved in logistics jobs and making them more attractive.
---
Christoph Tripp is professor of distribution and retail logistics at the Technical University of Applied Sciences in Nuremberg, Germany. He has many years of professional and consulting experience in the logistics industry, where he is regularly in demand as an expert, moderator, interviewee, speaker and trainer. Tripp is also the author of the reference book "Distributions- und Handelslogistik – Netzwerke und Strategien der Omnichannel-Distribution im Handel" (English: "Distribution and Retail Logistics: Omnichannel Distribution Networks and Strategies for Retailers"; the book is currently only available in German), whose second edition was published in 2021.